NodePit for KNIME is an extension that brings the whole functionality of NodePit to your KNIME Analytics Platform. NodePit for KNIME allows you to easily search, explore, upload, and download nodes and workflows without even leaving the KNIME Analytics Platform. To see, what's new, check out the changelog.
NodePit for KNIME is a free extension. We recommend you to create a NodePit account to gather the best possible user experience. This allows you to use features such as bookmarking and uploading of workflows. Get your free NodePit account here.
We are always happy to get your feedback and support. Do not hesitate to contact us via our feedback form.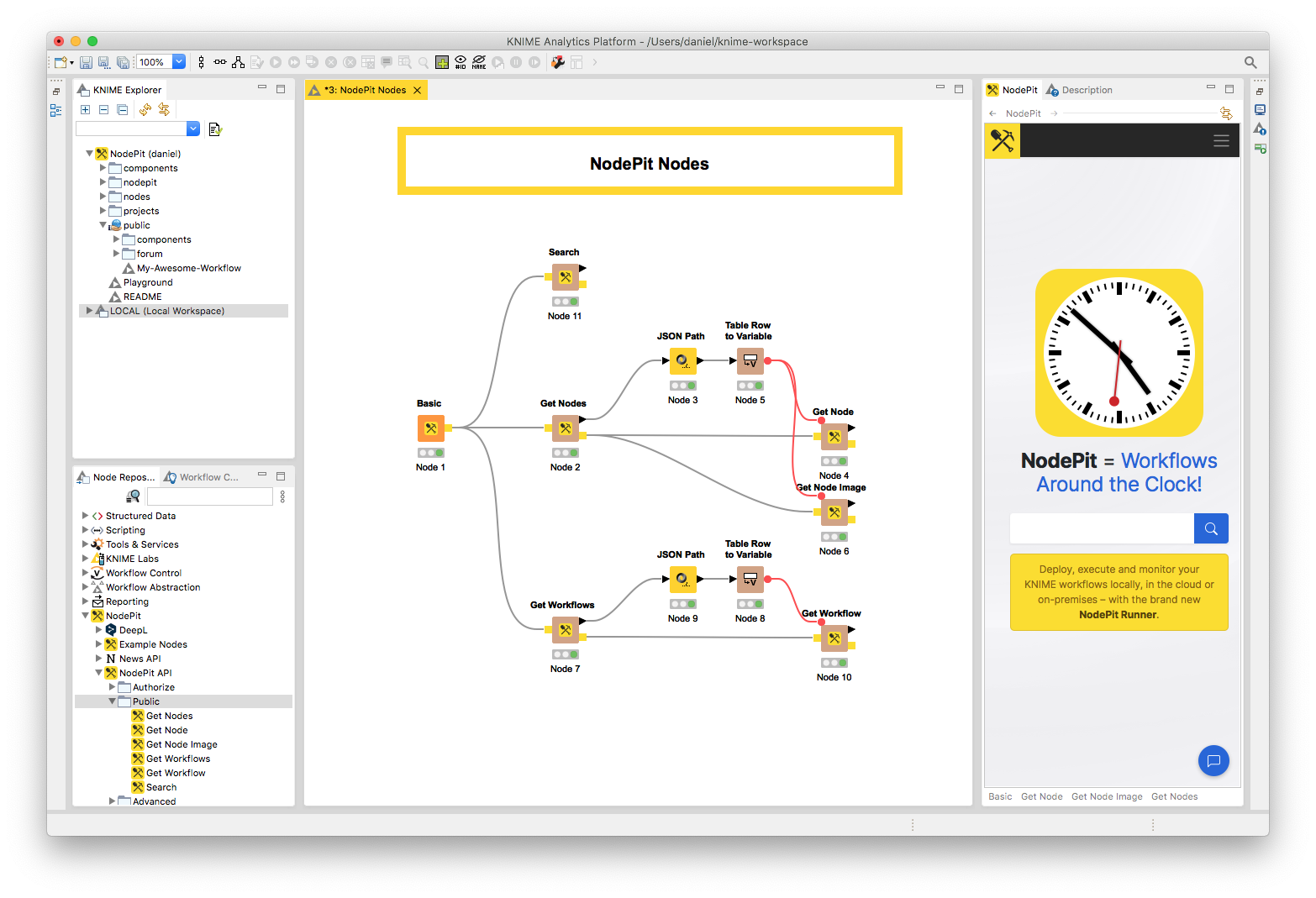 Features
NodePit for KNIME comes with a bunch of major and minor features and functionalities. The following core features are part of this extension:
NodePit View
NodePit View brings you the browser experience of NodePit into your KNIME Analytics Platform. NodePit View it is a dedicated view that let you search and browse our website from within KNIME. No need to switch windows.
But it is not only that! NodePit View also helps you to easily install or update nodes and workflows with just one click. Find the node or workflow you'd like to use and let NodePit View install it for you. No copying of urls or downloading files manually.
NodePit Space
NodePit Space is our "Dropbox for KNIME Workflows". And it is as easy and fast as this. Upload your workflows to NodePit, share what you want with friends, colleagues, or the world and access everything from everywhere at any time – from your browser or within KNIME.
Once configured, NodePit Space shows up in your KNIME explorer. Drag and drop workflows to automatically have them uploaded to NodePit. Everything you put into your public folder will be indexed by us and shows up on our website. Everything you put anywhere else is just for your private usage.
Start using NodePit Space to sync, backup and share the workflows you are most proud of!
NodePit Nodes
NodePit Nodes give you easy access to our free, public API and let you fetch product, node, and workflow information from NodePit ready to be used within your workflows. Even better, use NodePit Nodes to search our catalogue and come up with your very own projects based on our data.
If you need more information about our REST API or want to let us know about your fancy projects, get in touch with us. We are happy to hear from you and excited to help you get onboarded.